Chairman's Day – 21st June 2018
Unfortunately several people were forced to withdraw for a whole list of reasons. Nevertheless 24 members played in almost unbroken sunshine. This was during an almost endless dry spell and the pictures show just how much this affected the Green, but did not seem to take anything away from those playing.
The Final at the end of the season will be :
Lyn Willock and Terry Luff
Versus
Eileen Milward and John Pye
Rose Bowl – 2nd June 2018
Another enjoyable day with good weather.
The Final at the end of the season will be :
Pauline Cartwright and Terry Luff
Versus
Brenda Turner and Denis Knight
Rimmer Cup – 15th May 2018 (Ladies only)
A small but enthusiastic group of ladies and a much larger group of spectators enjoyed some ideal weather, unlike the corresponding match for the Gentlemen.
Some last minute withdrawals caused a few initial hiccups but otherwise all went very well.
The Final at the end of the season will be :
Joan Davies and Jean Hopwood
Versus
Eileen Lawton and Rita Harper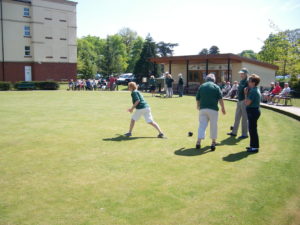 Robinson Cup 9th May 2018 – (Gentlemen only)
The weather forecast was not encouraging. The rain did not start until about 10 minutes into the first green and hardly stopped all day. From time to time the wind also became a factor. Nevertheless play continued normally players making light of the conditions.
The Final at the end of the season will be :
Alan Mellenchip and Brian Lawton
Versus
Dennis Knight and John Pye